BURNED OUT – but the owners are back in!
Making the property home again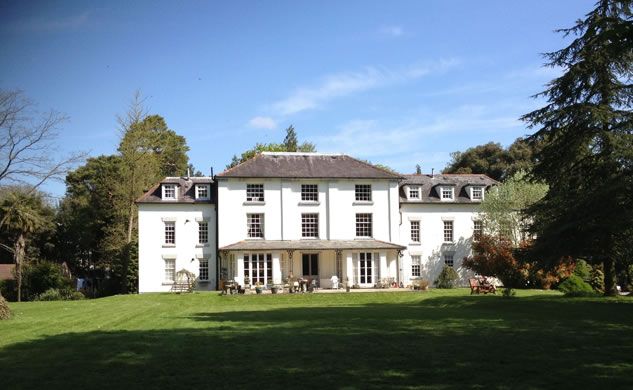 Timescale: 6 months
It is both terrifying and soul-destroying to see a home go up in flames but, in the right hands, it can rise from the ashes like the proverbial phoenix and be better than before – as was the case with a first-floor apartment in Bishopstoke Manor, Hampshire.
The unfortunate event
This 19th-century, Grade II-listed manor house on the banks of the River Itchen has been converted into 12, well-resourced apartments. Unfortunately for one of them, fate threw a curved fireball. Luckily, the occupants were out. With smoke pouring out of the windows and seeping into the communal hallway, a vigilant neighbour alerted the fire services. The damage was disastrous, leaving the apartment derelict and uninhabitable.
Too hot to handle? Not for Inspired Interiors…
Disaster recovery programme
Moving the home owners
It was essential that the couple moved to temporary accommodation. Works would take half a year to complete and this was not a project that would flex around daily domestic life.
Back to basics
Fire and smoke damage was extensive. Plaster had peeled from the walls and lay in shreds on the blackened floors. Woodwork was destroyed, Sash windows were shattered and the fairly new kitchen and bathroom suites were ruined. Nothing was retrievable. Brutal but necessary, the entire interior was gutted – stripped back to the brickwork, all furniture, fittings, floors and ceiling finishes removed and disposed of. Thankfully, the original, feature 19th-century ceiling beams remained intact.
Communal areas were covered to protect walls and flooring from the Inspired Interiors workforce and the relentless pace it took to rebuild the property.
Taking shape
Walls were made good and re-plastered. Electrics and plumbing were renewed through-out. Ceilings were replaced and fitted with new coving. Doors, frames, architraves and skirtings were installed, together with new wall and ceiling lights, power sockets and radiators.
New multi-paned sash windows with solid brass fittings were installed, with a wood window seat to the living room window. Oak floors were laid to all areas except the kitchen and bathroom which were fitted with new ceramic floor tiles.
The kitchen was fitted with white gloss units, black granite worktops and new appliances. The contemporary, tiled bathroom was finished with stainless-steel furniture and bespoke, wooden storage. To finish it off, a new shower, heated towel rail, mirrored cabinet and extractor fan were installed.
Finishing touches
All rooms were decorated with white matt ceilings, 'Jabot' (a perfect off-white) to all walls, and white gloss woodwork. Finishing touches included a burglar alarm and intercom telephone. Last but not least, smoke alarms were fitted in every room.
Result
Relieved and delighted home owners re-installed in their apartment – happy with the refurbishments, happy to be home again. All works within English Heritage guidelines and signed off by the Local Building Inspector and Grade II Listing Officer from the Local Borough Council.