Comfort, Style, Investment
Look what a 5-Star refit can do for your home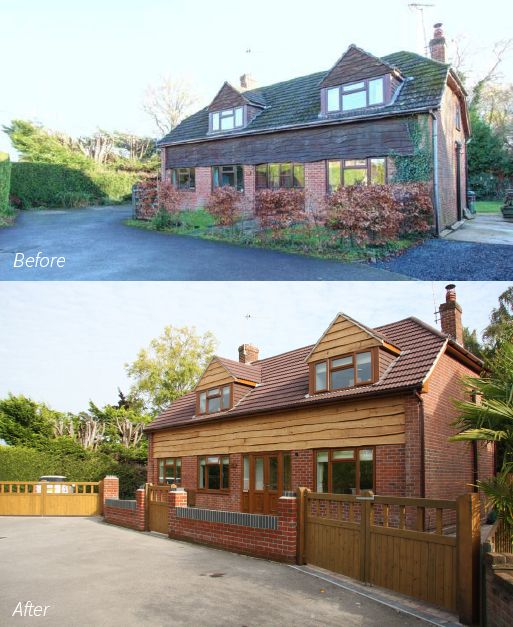 When it comes to transforming your home into a luxury residence, with instant kerb appeal and maximised value, Inspired Interiors always delivers. Take our latest project – a detached, 4-bedroom house tucked away in a secluded cul-de-sac in North Baddesley, a large village in the Test Valley.
A 1960s' property on a sizeable plot, it was in dire need of attention – structurally, functionally and cosmetically, inside and out. The Inspired Interiors team took it from a tired, brick-built island in a sea of tarmac to the warm, welcoming, top-drawer family home it now is. The project took five months and cost £150K, a sum offset by the property's ballooning value.

The challenge
True to form, the Inspired Interiors team stripped the house, outbuildings and grounds back to a basic shell to reveal a lengthy list of Building Regulation and Legislative 'Must Dos'. DIY can be wonderful thing but, in this case, most of the DIY works undertaken by the previous owners ranged from cosmetically unpleasant to downright dangerous.
From installing totally brand new compliant electrical and plumbing systems, excavating all gardens and driveways, to improving drainage and converting and creating new facilities, including an American Pool suite – no turf, tile, floorboard, roof, door or wall remained untouched.
Resolving the exterior: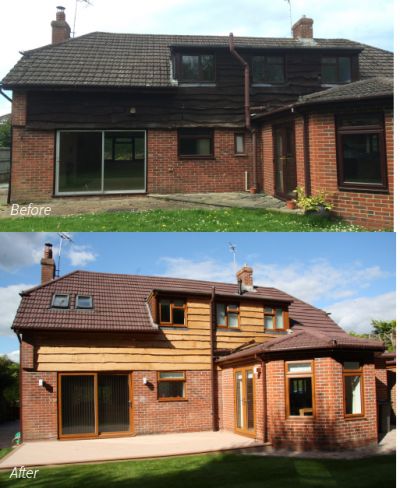 Revamping the roof
A thorough jet washing removed decades of accumulated moss and grime. Once dry, two coats of roof tile paint rendered the housetop as good as new – with a 15 year guarantee to keep it this way.
Waterproofing the exterior
New soffits, fascias, window cheek boards and 80 metres of new guttering and matching downpipes ensured the property not only looked good but could also withstand the worst of weather. Finally, the existing rotten external wooden cladding to the front and rear elevations was replaced with new Canadian Red Cedar boards.
Replacing all the windows and external doors
All the existing window and external doors were ripped out and replaced with new PVCu double glazing. That's 18 windows, 3 doors, 2 sets of French windows and one set of patio doors, all with a golden oak finish to the exterior, and white within.
Creating new lawns and drainage

The front and rear gardens were cleared, dug up, levelled and laid with fresh turf, having first resolved the problem with the rear garden drainage (more bog than garden in bad weather) by installing two 1 M3 soakaways. Other external drainage was also upgraded.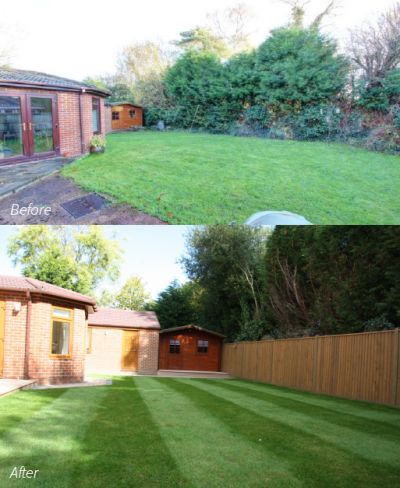 Fences were ripped out and replaced with new closed boarded fencing and posts, treated with oil-based wood stain for longevity. New solid oak gates to both driveways and front door path helped to create a pleasing, clearly defined boundary.
Hard landscaping for presentation, access and comfort
The old tarmac surrounding the property was removed and replaced with Tegula block paving, creating new drives either side of the house, and a footpath to the front door. A low, red-brick front wall with blue engineering brick cappings contributed to the upmarket exterior.
Dilapidated stone decking to the rear of the property was removed and replaced with two areas of composite diagonal decking, flush-fitted to the house contours, creating a larger, more attractive feature.
Rebuilding the lean-to
The existing lean-to to the far side of the garage was levelled, new hardstanding created, with the lean-to rebuilt to provide a discreet, secure storage area.
Converting the garage into an American Pool Suite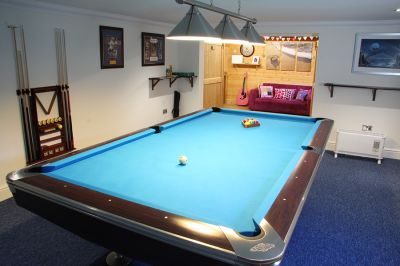 What better repurposing of a regular garage than to transform it into a swish, carpeted American Pool suite with a large, wall-mounted TV screen. What's more, the room links through to the adjacent refurbished wood cabin to create a bar and seating area, with dartboard, and new oak flooring. Outside, the two buildings were linked by and share, a new 6 metre box gutter lined with lead and waterproof coating.
Power was supplied via the installation of a consumer unit, wiring, sockets and switches. Pool table lighting was delivered via a suspended satin stainless steel, triple downlighter, hanging low over the blue baize. Good times!
Rewriting the Inside Story:
Starting from scratch
The house interior was stripped back to a bare shell in readiness for creating a completely new property, unrecognisable from its forebear.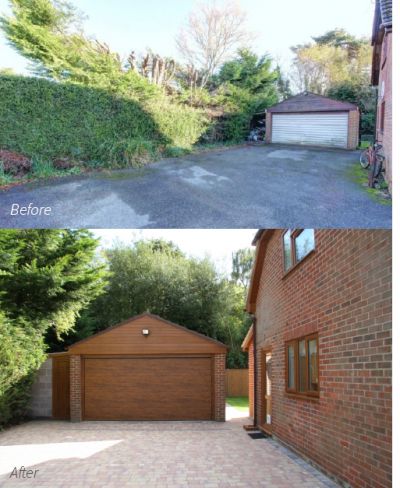 Getting down to work
Exposing the DIY electrical network revealed a melted minefield of American junction boxes and cables. It was imperative that this was removed and replaced with a compliant, safe system, including a new consumer unit, wiring, downlighting, switches and sockets.
New pipework and plumbing systems were installed throughout, including a new 37 KW boiler, double convector radiators throughout and all new sanitaryware.
Every wall and ceiling was replastered and finished with 'S' profile coving.
New woodwork was fitted throughout – oak doors with satin stainless steel door furniture, door linings, stops, architraves, skirting etc. This included replacing the old staircase with a new oak model complete with handrails and balustrades.
The property was decorated throughout – walls, ceilings and woodwork, with varnishing to the new oak doors.
Carpets were fitted throughout except for the lounge/dining room, which was fitted with a European oak floor. The windows and doors were dressed with roller or vertical blinds, and curtains, and natural stone floors were laid to the entrance hall and kitchen.
The log burner in the main lounge was removed and replaced with a log burning-effect gas fire set within a new stone fireplace and slate hearth.
Catapulting the kitchen into the 21st century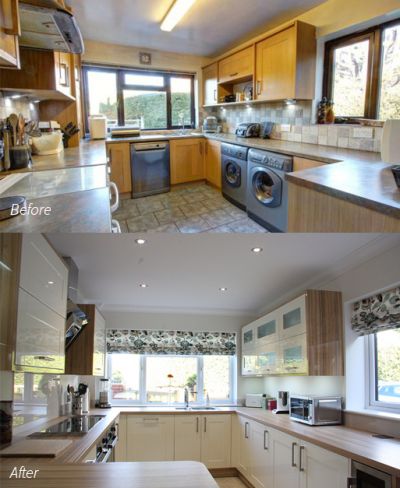 The hotchpotch kitchen had been formed from the original garage, with a floor level lower than the adjoining living and dining area. After gutting, the floor was raised flush with its neighbour, and a top-of-the-range kitchen installed, complete with integrated appliances, tiling, breakfast bar and wine cooler. The old-fashioned, floor-standing boiler with up-pipe was removed, and replaced by a high performance boiler concealed in the upstairs airing cupboard.
Repurposing the master bedroom ensuite
The 1st-floor ensuite window to the side of the house was bricked up, with the installation of two Velux windows bringing even more light to this facility in its new guise as main bedroom ensuite.  A bespoke shower unit with digital shower was installed, plus new sanitaryware, tiling, fixtures, fittings and storage. 
Creating new rooms
A new downstairs lavatory and cloakroom were installed, including a dedicated under-stairs 'pet-pad' with lighting and heating.
A new upstairs bathroom was fashioned from the fourth bedroom, complete with new P-shaped bath with digital shower over, sanitaryware, fixtures, fittings and tiling.
 A bespoke loft hatch was created, complete with an access ladder to the new fully boarded loft space, following removal of the redundant water tanks.
Result?
A bigger, better, virtually brand new home. Totally unrecognisable from its predecessor. Finished to perfection, showing vision and an unrelenting eye for detail. A long-term investment with the cost balanced by a big increase in value. A happy home life for all – including the pets (soon to arrive)…