Transforming lives with a total refurbishment, build and conversion
An inspiring refurbishment that made life mush easier for an injured ex-soldier and her family...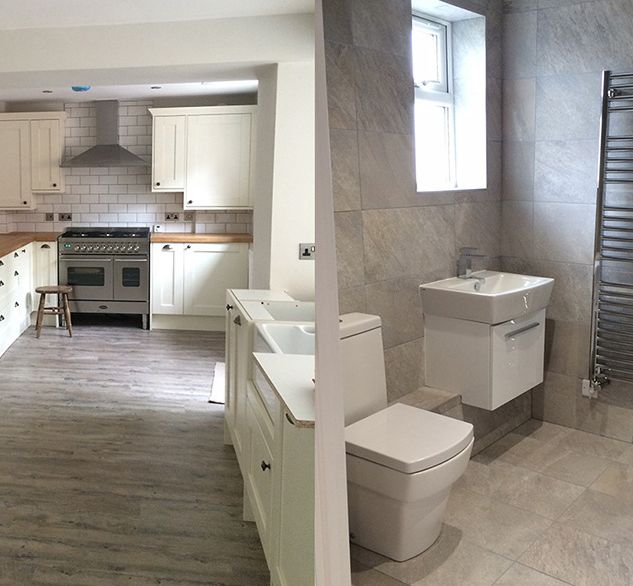 We were successful once again with our Tender for the Reserve Forces' and Cadets' Association (RFCA) who called upon Inspired Interiors to customize the family home of a young female soldier whose life changed course dramatically following a serious car accident four years ago.
Cared for by her parents in their home near Basingstoke, the house itself had to be adapted around the considerable needs of both the patient and her parents, to make life as easy and comfortable as possible for everyone involved.
In just 11 weeks, our team transformed the property from a standard semi into a first class family home-come-care facility, comfortable and on-trend – many mod cons, easy to access and get around, inside and out.
Coming in at £158K, it was some project – just the sort at which we excel: stripping the house back to basics and completely refurbishing including building a new single storey extension and undertaking a garage conversion to the main garage ground floor space and the garage roof space…
Access – from obstacle course to seamless throughway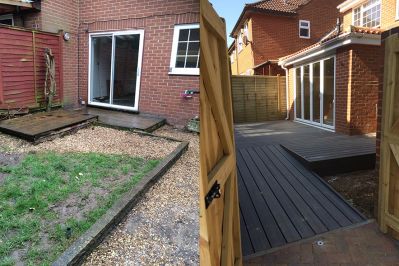 When the patient has to be wheeled about on a larger than normal wheelchair, front door access is not an option. Movement between house and vehicular transport was via a narrow side gate in a brick wall into the rear garden. This was a mixture of gravel, turf and concrete, with decking on two levels, and raised double sliding patio doors into the kitchen/dining room.
The access was made easier as we bricked-up the original gate and installed a timber double-gated entrance approached by a new paver footpath. Manoeuverability was enhanced by step and ramp access to an extensive composite decking area that covered much of the former garden, with manageable areas allocated for planting. A new, high, wooden fence gave privacy to this relaxing exterior feature.
Last but not least, entry to the house was made easier with the installation of triple bi-fold doors into the…
Brand new, single-storey extension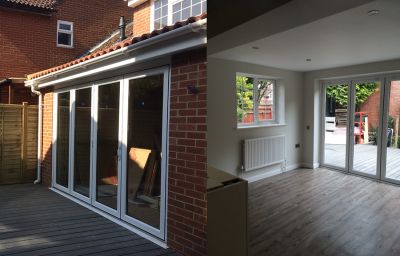 This brick-built addition is a dual-purpose room for this family. Not only is it a dining room, it has also brought the extra elbow room needed to meet their increased accessibility requirements.
From garage to dedicated care suite
The garage was converted into a bedroom with a separate wet room/shower room, accessed by new double doors from the lounge. To facilitate safe, comfortable, dignified transfer about the suite, we supplied and installed an ArjoHuntleigh hoist, sling and running tracks.
The original garage door was removed and replaced with new brickwork, complete with new PVCu windows to the bedroom and shower room; and the wet room was fitted with a new digital Aqualisa shower, sanitary ware, all fixtures and fittings, and tiled throughout.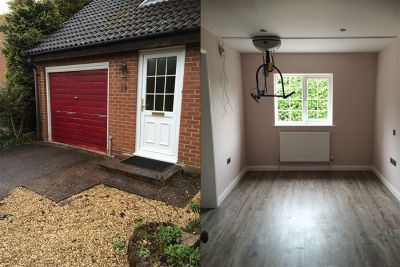 The roof space was converted, replacing the trusses with purlins for a lighter, more airy aesthetic, enhanced by the installation of a Velux window. The walls were finished in plasterboard and the suite was decorated throughout, with carpeting to finish off this new room.
Ground-floor flow
Karndean wood-effect flooring throughout the ground floor not only looks good but has made daily life easier. Hygienic, durable and easy to keep clean, it was just what was required to help life flow in this household.
New kitchen – who doesn't love a new kitchen?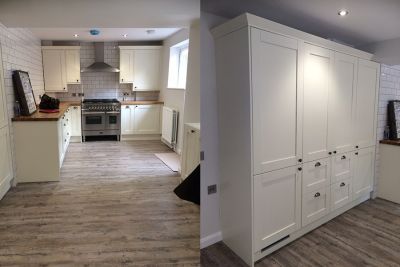 We removed the original in its entirety and installed a brand new Howden kitchen in plain white, with natural woodwork surfaces, complete with fully integrated appliances and new down lighting. Tiling and decorating completed this streamlined, easy-to-get-around hub-of-the-home.
General works
It's the finishing touches that make that make a house a home, a blend of style and function that makes domestic life a pleasure:
All woodwork was replaced: from doors, door linings and door stops through to architraves and skirtings
A new boiler and radiators were installed, supported by full plumbing and gas safe installations: comfort plus safety ensured
Electrics were replaced throughout, including the consumer unit: power plus safety ensured
Both floors were fully decorated, including new plastered flat ceilings to cover the original Artex: good looks that turn a house into a home
A new 1st floor bathroom was installed, complete with sanitary ware, fixtures, fittings and tiling
The whole upstairs was also fully carpeted: a total refurbishment to meet the needs of the whole family
New fascia's, guttering and downpipes supplied and installed to redirect surface water drainage: a comfy home robustly sealed against cloudbursts
The result?
A life-changing domestic transformation for a deserving ex-soldier and her family – completed on time and to budget.
Why Inspired Interiors?
We are an approved contractor for the Reserve Forces' and Cadets' Association (RFCA), a government agency funded by the Ministry of Defense (MOD) that, amongst its many first class support services, ensures that the homes of Military Servicemen are adapted to their individual requirements should they retire from the Armed Forces for medical reasons.