WE WON! Inspired Interiors wins Contractor of the Year at the Claims Consortium Group Awards 2017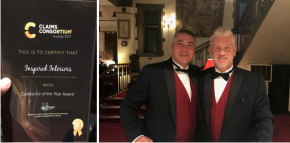 Can't quite believe it but we did it: won the Claims Consortium Group Awards 2017 – Contractor of the Year, with the trophy handed over at a prestigious evening ceremony, attended by over 300 staff and suppliers, held at the Brewhouse Theatre in Taunton on Friday 22 September.
We were chuffed to be one of three shortlisted in the first place (read the news here), but were staggered to win as we were up against two big guns on the national construction scene – BSA Regal and Slayco.
Lee Unwin, Managing Director of Inspired Interiors, expresses elation and disbelief at the team's win:
"We honestly thought we couldn't win. How wrong we were! Apparently we won by a mile as the judging and voting is carried out internally by the Claims Consortium Group Management. Some Senior Directors said "we won hands down!"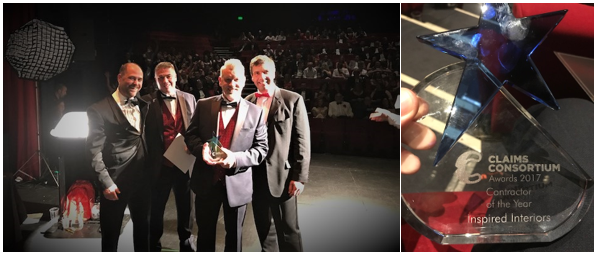 Alright on the Night! From left to right: Jeremy Hyams (Chief Executive Officer: Claims Consortium Group) Barry Stephen (Contract Manager: Inspired Interiors) Lee Unwin (Managing Director: Inspired Interiors) Nick Turner (Professional Services Director: Claims Consortium Group)

The gala evening was attended by Taunton MP, Rebecca Pow and civic dignitaries from Somerset County Council, including Her Majesty's Lord-Lieutenant of Somerset, Mrs Annie Maw and her Deputy, Richard Case.
It was a night of excitement and delight all round, with PCUK being awarded the Queen's Award for Enterprise: Innovation.
It was also announced that the Claims Consortium Group had entered into the Sunday Times' top 100 companies at number 46. This puts them above most of their clients and big companies such as Waitrose and Autotrader.
Lee continues:
"It's such an honour to receive this award especially when the competition was so strong. To be officially recognised as the leading contractor by the Claims Consortium Group, who represent the leading insurance claims companies by handling and managing the National Repair Network, is a proud feather in our cap."
"The award means we have performed exceptionally in all the areas measured, and have demonstrated our commitment to outstanding customer service – with positivity, courtesy and initiative.
"Ultimately, we have set the benchmark for what being a great supplier means to the Claims Consortium Group."
"We thank every person involved with Inspired Interiors, from the staff to the labour force and just as importantly the sub-contractors and suppliers – you are all a credit to us and this award is dedicated to you all."