We're mobile! Spot our logo on the go-go – on a road near you!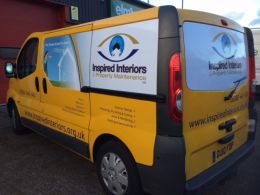 You can't miss us – our distinctive vans, and equally distinctive logo, are in full view on highways and byways across the whole of the South coast.
Our new-found road presence represents our fast-growing reputation for high quality interior design, refurbishment and decoration services delivered by a team of time-served professionals.
Could be time to some changes… Why not call us for a FREE consultation? We'll whizz round at a time to suit you, to assess your requirement. No pressure – just a spot-on solution tailored to your taste and budget.
Look out for the Inspired Interiors' team – on a road near you: Call 023 8064 1460 / 07919 610565 / 07786 446960. Or email: info@inspiredinteriors.org.uk